13oct(oct 13)9:00 am14(oct 14)5:00 pmAviation Crew Member Self-Defense TrainingTHURSDAY - FRIDAY | OCTOBER 13-14, 2022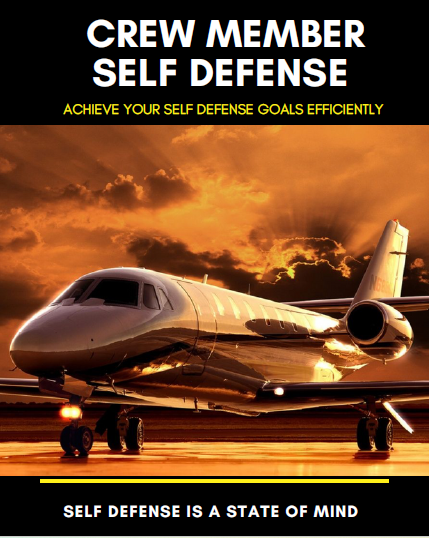 Event Details

Objectives
Protecting yourself with basic self-defense moves for handling violent situations with passengers.
Defending yourself against the most common attacks.
Creating awareness of your surroundings.
Using simple techniques allowing you to escape from potential difficult situations.
Being mentally resilient and acting with increased self confidence.
Dealing with escalating incidents and help colleagues.
To better remain calm under pressure.
Ensuring your own safety.
A. De-escalation by verbal communication
With the increasing aggression in aircrafts and at airports, it is important to know how aggression can be handled because hostility can result in physical confrontation. To prevent this, it is essential to understand how we can de-escalate this through verbal communication. Every avoided fight is a won fight. Most potential violent opponents can be talked down.
There are different forms of violent behaviour. Tips will be provided on how to deal with verbal hostility.
B. Physical part: Basic techniques
1. Stances and movements
Passive stances and the general ready stance
Good stance is important for your balance, to defend and to counter an assault. You always need to be ready to use self defense moves from your position.
Straight strikes, elbow strikes, Kicks (knee/side kick, front kick/stop kick)
2. Strikes and Kicks
Straight strikes, elbow strikes,
Kicks (knee/side kick, front kick/stop kick)
The strikes and kicks can outbalance and distract an opponent. It allows you to perform a follow-up, such as another strike or a control technique.
Using blocking techniques can stop an opponent's follow up move and unbalance the person's position. It's also used to move yourself to a safer position.
Dealing with falls (get up from the ground) (forward soft break-fall)*, essentials of protecting yourself on the ground.

In case you end up on the ground, it is essential to know how to keep the opponent on a distance, how to defend yourself in case of an attack and how to quickly regain a proper defense position.

This is a response to an attack ('action-reaction').

3. Wrist releases

In the event of being grabbed by the attacker with two hands or with one hand on a wrist, you must establish a solid balance position and know how to breakaway.

4. Simple take downs:

Easy and simple take downs will be trained to bring the opponent to the ground.

Although there is none or not much space on the aicraft for ground combat or to throw someone down, this is part of the self-defense program. It will increase resilience and a sense of self-confidence. Defenses to the most common attacks in an airplane will be trained.

5. Control techniques: armlocks/wrist locks, rear naked choke
By subduing and keeping the opponent under control you yourself can remain safe and reinforcement can be called in.

6. Disarm techniques: redirect-control-counter attackdisarm
Important is the disarming an opponent who intends to use an
object (e.g. knife when attacking).

Disengage and defend from:

i.

Wrist & arm attacks standing and from the front
Clothing, body, hair grabs
Standing strangle attacks, from the front, from the side, from behind
Strangulation/attacks on the ground
Attacks around the head, from the front, from the back and from the side
Strikes from above, outside and inside & kicks

ii. Combination attacks
The main attack is often introduced by a 'semi' or another attack, such as first pushing follo

iii.
Armed attacks (this can be objects like a hairbrush, a pen etc. that are used as a weapon).
Only the most simple and basic disarms techniques will be dealt with.
The basic rule is to seize (grab the hand/arm that holds the weapon), control (control this hand/arm), and disarm.

Breakaway techniques by means of

Rotation and leverage.
Various striking methods (heel palm strike, eye strike, jabs, elbow strikes.
Kicks (stop kicks & regular kicks).
Using pressure points.

Disengagement techniques can help to avoid violent behavior and make you feel more confident in case you must defend yourself.

*depending on the space and availability of mats.
more
Time

13 (Thursday) 9:00 am - 14 (Friday) 5:00 pm