Service Elite Training
This course is for the experienced corporate flight attendant or even the novice who desire to sharpen their skills and redefine their service expertise. Stand out amongst your piers and colleagues with proven elevated service delivery techniques with the spoken and unspoken aspects. How do you properly set the table for your guest? What is elegant and what is practical? Learn how to provide an elevated coffee service presentation as well as high tea service. Discover the nuances of sushi and sashimi presentation, elevating techniques for plating presentation; including a saki pairing. Learn about wines, caviar service and amuse bouche or canapés that all combine to create a superior experience for your guest. Is there something else in the service spectrum you want to learn more about? We can tailor additional content to meet your needs.
This 2-day training program provides a thorough presentation and hands-on experience preparing and serving VIPs aboard the aircraft. Additionally, new ideas for the cabin crew on menu planning, cabin staging, storage, making beds, and protocols will be demonstrated for both domestic and international travel.
There are only a few things that can make or break your passengers' experience on a business jet flight. Quality catering and inflight service are definitely two leading contenders in this ever-changing and demanding world of business aviation. You will learn the latest boarding presets and inflight service techniques and skills as well as proper table setting standards suited for inflight and various cultures.  As many cabin crew members can now contest, today's perceptions and expectations have dramatically changed!
The goal of trainDAVINCI's Service Elite is to provide the most current information available on catering techniques, food handling safety, service tools and hot topics within our industry for our experienced cabin crew students. Course is a blend of classroom lecture, visual presentations, and interactive student scenarios in the cabin service trainer.
Available separately or bundled with other programs – varies per month.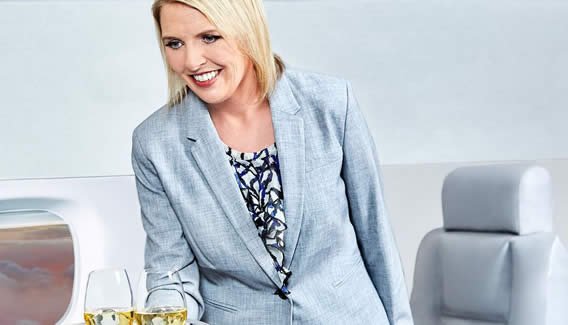 Hot Topics
Sharing and discussing the latest and hottest catering, inflict service and speciality foods trends in business aviation as well as showing you all of of the "must have" tools to have onboard your aircraft or carried in your personal travel service kits.
Sushi, Sashimi & Sake Service
Handling safety
What and how to order
Presentation
Accompaniments and pairings
Chopstick etiquette
Tools needed
Serving sake
Wine, Champagne & Cheese Service
Pairings
Storing and safety
Presenting and serving
Stemware
Tasting and pairing interactive
Champagne service
Cheese service and pairings
The basics
How much do I need?
Presentation
Must have tools
Accompaniments
Vodka and champagne service
The basics
Type of teas
Presentations
High Tea, Afternoon Tea (Low Tea), Chinese and Japanese Tea Ceremonies
Must have tools and accompaniments
The menu
The basics for the in-flight barista
Type of coffees and services
Espresso and specialty coffees
French press
The basics and "Tricks of the Trade"
Single and double berths, divans and staterooms
Preset beds
Turndown service
Passenger amenities
Creating a WOW! Factor cabin experience
Setting the Stage in the cabin (cabin presets)
Greeting your passengers and pre-flight departure service
Table Settings and Various Service Techniques
Please contact trainDAVINCI for more information, customizing options, training proposal and rates.