Intermediate Level Culinary Courses
1 to 5 day intermediate level culinary programs designed to increase your skill level by teaching you how to create and present "Wow factor" foods for your passengers, guests and flight crew, food safety and allergens, and overcoming mistakes that might otherwise ruin the dining experience, "if you mess it up, dress it up!" Whether a professionally trained chef, home novice cook or transitioning into business aviation, you will indulge all five senses in the only cutting edge culinary training program designed to specifically cover the topics, handling, and environment found in the business jet and luxury yacht industries.
Available in single and multi-day course programs: 1-day, 2-day, 3-day, and 5-day.
Life or Death Allergens
1-Day Course
Consuming food allergens can result in the death or a life-threatening response for an allergic individual or require the necessity for an immediate flight diversion or unscheduled emergency landing. Serve Safe certification upon completion, digital and card deck restaurant allergy cards given to take away.
Mess It Up, Dress It Up
1-Day Course
Mistakes happen. The key is how well you can recover by thinking "out of the box." This class will engage the student in numerous cooking disaster scenarios and how to use creative problem solving remedies so that the passengers and their guests see nothing but flawless service and incredible plates. This class introduces the student to out of the box thinking, how to access the situation and how to recover calmly. This class is based on numerous true to life things that have occurred to crew members over years past. The class will access the situations and come up with solutions. Lots of hands on messes, and even more fabulously delicious solutions. This class will also cover items that should always be on hand in your "to go" kit. Never feel overwhelmed again.
Platters and Trays
1-Day Course
This class is all about shared trays of food. Based on the seating configuration of each cabin, the number of trays and platters for a flight will vary. Understanding how much food a person averages per flight hour, the solution is quick and easy to save on the amount of food needed. This class teaches the techniques needed to successfully turn a pile of food into a beautiful eye catching, tickle your taste buds sensation. In this class you will learn the principles of design and motion to create enticing mezze trays, dessert platters, sandwich trays, cheese platters, fruit plates, crudités, antipasti, cold meats and cheese deli, cookies and brownie trays, breakfast breads, fruit baskets, roll and butter basket to create innovative table scapes on the buffet/credenza.
Southern Comfort
1-Day Course
Culinary success is yours as the student will learn techniques for creating soups, service styles, presentation ideas for both hot and cold soups. Soups that can be created from the pantry with simple additions to customize the soups into unique flavorful bowl of goodness. This course will train cream, clear, and broth based soups and chowders that contain, shellfish, fish, vegetable, beef, chicken, and pork. The student will learn how to create a delightful comforting dish that will get rave reviews.
Fresh from the Garden Salad Plating and Design
2-Day Course
Salads are one of the most common foods served on board an aircraft for a complete meal, a light snack or appetizer. Whether because they meet multiple dietary requirements, or can require less on-board heating, or that a salad is simply deemed a lighter food choice. This class offers intensive hands on study of salad greens, salad toppings, and salad garnishing. The course offers a balance of creativity with practicality for the aircraft cabin using fundamental culinary concepts creating and plating dozens of salads.
Rise and Shine
2-Day Course
This class is guaranteed to get you out of the morning rut of eggs and bacon. Breakfast and midmorning flights are often the most challenging to create new menus. This class is loaded with new ideas and trending foods, and is definitely filled with inspiration. Breakfast and Brunches require planning and prepping. They need to contain real-world food for the first part of the day or late in the night. To prepare an assortment of selections require galley organizational skills timing, working efficiently and with speed. This course offers numerous tricks created just for aviation and various different menus meeting special diets, allergens, and nutritional content to cover a wide variety of passenger expectations. Food safety and cross contamination are vitally important when dealing with eggs.
Appetizers, Canapés, Hors d'oeuvres, pre-boards and simple starters. Flight delays, extended length flights, and delayed meal service may require a bite or two to whet the passengers' appetite. This class is great for the novice home cook or the seasoned flight attendant. Often times small bites can also be served as a light meal for casual dining; or for a celebration with champagne, wine, or a cocktail. This class teaches the important differences between an appetizer, a starter, a canapé, and an hors d'oeuvres. Understanding the difference and terminology is key when placing an order with a catering source. The student will be able to adjust the food quantity based on time of day and length of flight. The student will be able to select the best beverages to serve with the food with the event style must be planned and organized. This class will learn to prepare tapas for each meal segment and for all times of the day and occasion. Imagination, techniques and unique presentation ideas will never hold you back from presenting creative fine dining tapas on board.
Back to Basics
3-Day Course
Whether a professionally trained chef or beginning as a Flight Attendant, there is a bounty of information for you in our back to basics program. Your catering arrives… you look at it and wonder what do I do next? From galley and menu organization and using a variety of tools and equipment, this hands-on education in sanitation, knife skills, food production and meal management will enable one to develop professionalism and proficiency in presentation and palate development. This course is perfect for those new to the industry and the well-seasoned cabin crew and is jam packed with information and learning new skills that will come in handy sooner than you think.
Cooking on Board
5-Day Course
Gain solid culinary skills to nurture your success through practical experience. With limited space, equipment and the imperfect eating environment compensations must be corrected with creative "out of the box" techniques. This course will cover creating and organizing menus, production and time management, group plating. Learning how to maintain a food safe environment, preparing onboard customizes courses – breakfast, lunch, dinner along with assortments of appetizers, soups and sauces. Cooking onboard with the oven, skillet, microwave and coffee pot. What are the best cuts of proteins, preparation and seasoning for the aircraft.
Day 1: Fish and Shellfish
Day 2: Meats includes beef, veal, pork, and lamb
Day 3: Poultry includes chicken, turkey, duck, and quail
Day 4: Pasta and the five mother sauces
Day 5: Desserts and Breads
Imagine It, Create It
1-Day to 3-Day Build Your Own Course
Choose your own curriculum! Yes, you can determine your own course based on your specific culinary requirements for your operation or skill set. Do you need help working with global catering sources, heating and plating the food delivered? Do you want a course on food safety, catering safety management systems for catering, plating, stacking, trending menus, catering around a passenger's allergy, or a refresher on breakfast ideas? Build your own group of 6 -12 from your flight department or a group of friends and peers within the industry to receive group pricing, and have your own customized program. Depending on the number of topics desired, trainDAVINCI can determine the number of days needed. Or another options is we work in reverse with how many days you want and trainDAVINCI will determine what topics from your selected list that will fit into your desired program. Based on the detail of your requests, typically four mini sessions can be accomplished each day.
Elite Level Culinary Courses
The following Elite Level courses are sample agendas/themes available OnDemand as a scheduled client or student group course of 6 attendees or more. These courses are also available to be conducted onsite.
Advanced culinary and skills training for business aviation professionals
Available in single and multi-day course programs:
1-day, 2-day, 3-day, 4-day and 5-day
These courses will provide the understanding of the basic needs and restrictions of your clients, enabling you to order more precisely the food matching passengers and flight crew requirements, considering the restrictions of an aircraft galley for the appropriate dish for the specific time of day.
Daily modules are designed with hands-on interactive culinary training combined with instructor lecture, visual presentations, detailed manuals, handout materials and all needed tools to successfully complete the lessons. Each class is taught by aviation industry expert Paula Kraft and conducted in the state-of-the art culinary lab in the train DAVINCI Training Center.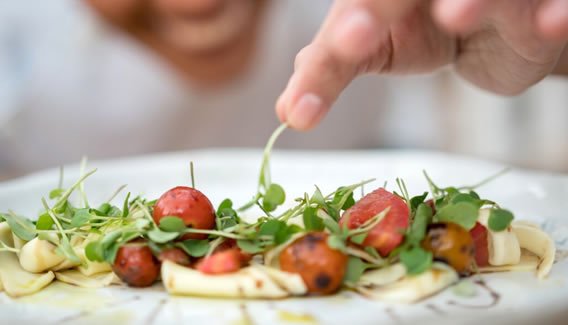 You will gain a valuable understanding of aviation specific packaging, foods and the interplay among ingredients, various cooking methods and seasonings that work best at high altitude. You will learn how to make an order a simple task, while reducing waste and food costs. You will gain the ability to prepare and present foods that create a "Wow" factor for your passengers, guests and the flight crew, while even overcoming mistakes that might otherwise ruin the dining experience.
Going Vertical (The Art Of Stacking Foods)
1-Day Course
Within the confines of an aircraft and of its numerous flavor killers, visual appeal is paramount. It is said people eat with their eyes first and going vertical is just one of many solutions to create the visual WOW factor to amp up the flavor expectations of a dish. This class focuses on the vertical approach to meal presentation achieved by stacking foods.
Sandwich Rediscovery
1-Day Course
If you are tired and bored with the turkey on whole wheat sandwich, this is the class for you. Hot and cold sandwiches, mini, finger and button roll sandwiches, European vs. American sandwiches, open faced and wrapped… it is time to explore all that is changing in the sandwich world as we currently know it to be. This class rediscovers and reinvents and every part of a sandwich while teaching you how to create that unbelievable work of art. This journey to create a trending delicious mouth-watering sandwich will be full of innovative remakes of the sandwich. The new creations prepared will have an excitement of new flavors and presentations that include an assortment of creative and delectable condiments and sides that complement the flavor of the sandwich.
The Art of Taking Tea
Most cultures have their own form of taking tea. Your education should include the proper tea ceremony/technique, equipment, and foods that are part of the tea service. Join this class to travel the world and explore the tea rituals you may be required to offer your passengers or their guests in flight. This is a hands-on class with each student preparing and serving tea as dictated by each culture.
Black Gold-Caviar
1-Day Course
Caviar service is the most sophisticated and classically rooted service in history. Knowledge and understanding of the types of caviar, the differences in the grades of caviar, the taste and texture of caviar, food safety of caviar, the accoutrements and equipment needed to properly prepare the service are critical. The student will receive the tools for serving caviar, recipes for blinis and step by step preparation techniques of the accoutrements. This class also teaches various serving garnishes including rose blocks, ice plates and caviar shells. Care will be taken to teach creative ways to present the caviar to receive the WOW factor. Champagnes and wines have both good and bad marriages with various types of caviar and the student will sample and be able to select the best possible choice to serve. This class will also prepare assorted hors d'oeuvres using caviar as a garnish while learning what foods marry well with caviar flavors and texture.
What's Hot and What's Not– Food Trends
1-Day Course
We are entering a new age of culinary exploration and there must be attention to what those trends are, how to cook and heat these foods, and most importantly how to present them. If it is fresh, customizable, heart healthy, safety conscious and super cool then it falls into this category. So be hungry for what's next. Are you stagnant and bored with the same old menus and foods you have been ordering? Come to our food trends class and learn the latest presentation techniques and food trends before they pass you by.
Trending Menus
1-Day Course
Buddha bowls, power bowls, ramen bowls, Quinoa, farrow, ancient grains and more. This hands-on program will inspire you to step out of your comfort zone and try something new. If you don't know what Okonomiyahi is, join this class and see how "grilled as you like it" can be the perfect solution for a meal (breakfast, lunch, dinner and late-night power snack).
Vegan, Vegetarian Made Simple
1-Day Course
Imagine a luxurious gilt free gluten free dark chocolate cake filled with chocolate mousse, covered in chocolate ganache and presented with a raspberry coulis and fresh berries. Gluten Free doesn't have to be made out of dried out hard, dense breads tasting like cardboard. This course will energize your palate and creativity when you serve your passengers and crew outstanding new food.
Wow Worthy Paleo, Mindful and Clean Eating Menus
1-Day Course
It is time to be inspired and show your skills. This course teaches you everything needed in your pantry to turn any meal into one of these eating plans. Recipes, preparation and presentation are all covered. Learning the components and the formula for a sure-fire success each time you are tasked to plan for a special meal. Hands on and lots of tasting for breakfast, lunch, dinner, salads, appetizers, soups and oh yes…desserts.
Create the Unexpected
2-Day Course
The student will develop a command of both classic and dramatic contemporary plating techniques. Delicious menus are always a harmony of flavors, colors and textures. Learn the elements of design that are applied to all plating presentations. This class will cover saucing, plate painting, dusting, food placements for the contemporary designed plate, and creating art in food. Understand the balance of a plate and how to work the plate to your benefit. This course includes training objectives to understand the sense of taste and smell at altitude with fun experiments to awaken your sense of not only visual appeal but that of flavor combinations and taste nuisances. This class will offer insight into taking traditional dishes and adding a new twist to get the unexpected. This class shows the passion in food translating into new ways to present it, elevating you and your passenger to new heights. Who says it must be done the same way? Take a ride on the adventurous side. It's all about the food.
Importance of passenger food preferences – Passenger profiles
Importance of crew food preferences – Crew profiles
Garnishing Techniques using the toolkit provided to each student-

appetizer
soup
salad
entree
sauce
dessert

Trip planning – catering order
Why food safety is important
Safety and security procedures when placing a catering order
Auditing your food source
The FBO's role
Reheating food in the oven, microwave and hot pot
Food storage onboard
Water and ice procedures
Dish cleaning procedures
Proper sanitization
Dry ice procedures
Culinary Evaluation
Specialty/Seasonal Courses
The following Specialty/Seasonal Skill Level courses are sample agendas/themes available OnDemand as a scheduled client or student group course of 6 attendees or more. These courses are also available to be conducted onsite.
Introductory and Intermediate level 1-day and 2-day specialty programs instructed by trainDAVINCI or one of our Subject Matter Experts featuring modern culinary techniques, molecular gastronomy, seasonal and holiday courses, religious meals and protocols, and holiday baking and decorating for kids.
Conducted in 1-day and 2-day courses.
Appetizers for the Holiday Flight
1-Day Course
Assisted by Big Chef Catering, a full day will be spent creating a lavish assortment of canapés, appetizers and hors d'ouvres that can be prepared in minutes from the aircraft pantry, from ordering pieces to save time and space from your catering source and how to "fix" appetizers damaged in delivery. How much do you order, how to reheat, and how to store hors d'ouvres will be discussed. Come hungry and leave having tantalized your senses with mouthwatering photo worthy food.
Religion and Food – Kosher and Hanukkah
2-Day Course
Instructed by trainDAVINCI's Kosher and Hanukkah Subject Matter Expert and the Big Chef Catering's Staff Rabbi
Day 1 – Jewish Meal Service on Board

Holidays can impact menu selections offered on board the aircraft. Planning, preparing and serving certain foods may take on a life of their own and knowledge is critical so to avoid mistakes made due to lack of information. Mistakes that could potentially prevent a passenger from eating the food provided on board because the cabin crew or scheduler was not informed. Our Subject Matter Experts will enlighten you in what it means to be Kosher, what actually occurs in order to get a Kosher seal, the challenges of locating Kosher catering. This course provides background for service and eating equipment, what can and cannot be served together, commonly asked questions and answers, recipes and intense hands-on preparation and presentation techniques.
Day 2 – Observing Hanukkah on Board the Aircraft

Understanding the traditions and classic foods served for Hanukkah will enable you to WOW your passengers. Learn about the Eight Days of Light, the ceremony of the Menorah with on board options, the Story of Hanukkah. Be prepared to honor the faith of your Jewish passengers with traditional menu items to serve on board from around the world. Recipes and tastings items like Bimirelos and Sfenj donuts potato turnovers, kibbet Yatkeen, Keftes de Prasas while learning the music heard during the ceremony. The student prepares these items and more to taste and present in a creative manner using the appropriate set of equipment. The student will also prepare a catering request for the catering source to provide the prep for the meal to be completed on board.
Kidz in Kitchen
1/2-Day Courses for the Mini Holiday Bakers
Assisted by Big Chef Catering, a full day will be spent creating a lavish assortment of canapés, appetizers and hors d'ouvres that can be prepared in minutes from the aircraft pantry, from ordering pieces to save time and space from your catering source and how to "fix" appetizers damaged in delivery. How much do you order, how to reheat, and how to store hors d'ouvres will be discussed. Come hungry and leave having tantalized your senses with mouthwatering photo worthy food.
Gingerbread Houses (1/2 day for all mini-chefs)

This class is filled with mini bakers in holiday aprons and Santa hats decorating pre-made cookie houses. While our little bakers sing along with holiday music and get covered in sugar and icing, their creative energy flourishes as they emerge with a candy laden treat to take home for the holiday. Class includes all materials to create a candy wonderland built to withstand a ride home, a chef apron and hat.
Hanukkah Baking and Cooking (1/2 day for all mini-chefs)

All mini cooks welcome. The holiday dreidel is created in gingerbread and built 3-Dimensional for the young bakers to decorate with candies, sprinkles and edible glitter. In addition, our mini pastry chefs will decorate menorahs, make homemade apple sauce and zucchini, beet, and potato latkes. Each chef takes home their own apron, chef hat and mini cookware set and tools to assist at home.
Cookie Baking and Decorating (1/2 day for children 7 years and older)

Holidays mean baking … and even our pre-teen chefs want to get in on the action. This class is geared toward 7-year olds and older. Playing with chocolate, dipping fruits, cookies and making fun garnishes for mini desserts is only a beginning. Painting cookies with icing and adding decorations to share with family and friends makes for a fun filled day of holiday cheer. Our chef bakers will create mini loaves of banana bread, small pies and snack cakes that will be enough to fill Santa's traveling box goodies. Student receives an apron, chef hat, and kid sized baking tools. Our mini Bakers will prepare their own lunch, beverages included.
All of the featured Culinary Experience courseware can be 100% customized for client and/or group programs.