The job of the business aviation flight attendant is one of myriad opportunities and challenges, from two days in Paris with a view of the Seine, to a day visiting the mud volcanoes of Azerbaijan, to serving meals and providing onboard tech support to eight intense executive travelers in tight quarters during 12-hr. nonstops.
It may, or it may not, require FAA-mandated safety training, and the cabin service role might range from dog walker to the correct protocol for an Arabic coffee service. In fact, passenger services comprise the greatest part of the role. It demands knowledge and experience across a broad range of subjects — complex cabin digital systems, placing catering orders, inflight food preparation and meal service, care of pets and children, and arranging transportation and hotel accommodations. And that is just the beginning of passenger expectations.
According to Susan Freidenberg, former corporate flight attendant and now president and CEO of Philadelphia-based Corporate Flight Attendant Training & Consulting in Phildelphia, there is always something new to learn.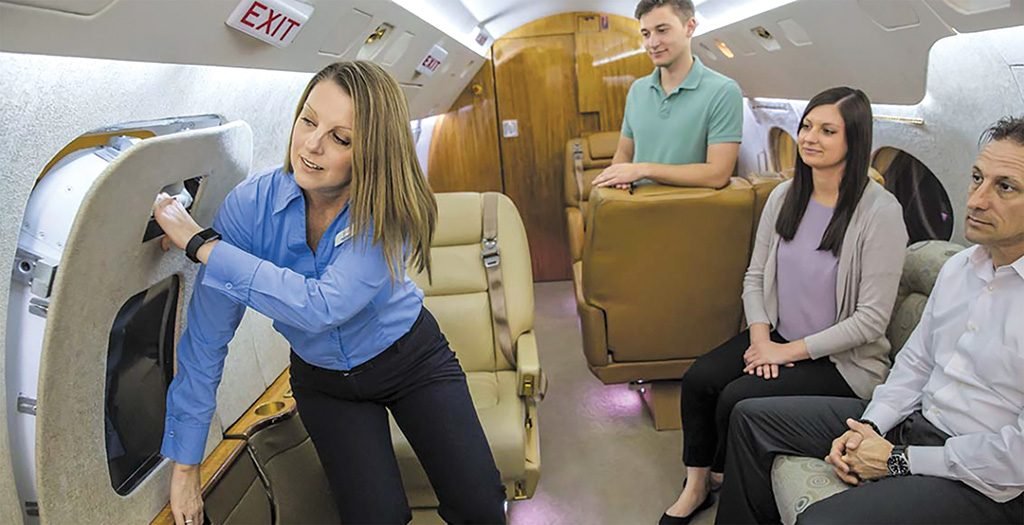 "When I began flying, everything was analog — the circuit breaker was an actual device to break the circuit, and now it's a touch-screen monitor," she said.
Training that extends to cabin systems is something also emphasized by Louisa Fisher, program manager for cabin safety at FlightSafety International in Savannah, Georgia.
"Crews are becoming more adept at non-aviation connectivity and are putting those skills to work in the aircraft cabin," said Fisher. "And the fact is that they are evolving with and embracing the new technology."
In a recent online search for a flight attendant by charter broker VistaJet, the role of "assisting passengers in use of cabin systems, such as entertainment and high-speed internet connectivity" was among them.
Freidenberg took note as well of the latest emergency medical equipment, in particular the automatic external defibrillator (AED). "In a medical emergency, the flight attendant may automatically assume the role of first responder, which includes use of the AED." And she added, "The CEO may be in charge of the entire company, but if he's suffering sudden cardiac arrest, he'll not be in any condition to apply the AED."
Satcom Direct is a digital training partner with FlightSafety, offering its aeroCNCT cabin inflight connectivity instruction for flight crews since 2017.
The training is also available at Satcom Direct facilities in Melbourne, Florida, or at customer on-site locations as required, according to Director of Training Mark Mata. "On-site works particularly well for customers to gather their crewmembers in a single location where it enables them to ask specific questions related to the company aircraft fleet."
The course was designed and developed with input from crewmembers to give students the confidence to tackle problems related to applications and connectivity on personal devices during flight. It covers the internet and connectivity familiarization, network basics, flight operation preparation, data management fundamentals, proper use of applications and troubleshooting tips.
Training is instructor-led and a day and a half in length. A total of 150 trainees have completed the course and in 2018, 72 certificates were issued to students completing the course and choosing to take the final exam.
Recognition of aeroCNCT continues to grow as do new and expanding partnerships. "In 2019, Version 2.0 course content will be updated to keep current with industry needs, wants and evolving technology," said Mata.
Satcom Direct will also be adding resources to its Learning Management System, including short learning videos and questions to help reinforce the learning. Mata further noted that students are primarily business aviation flight attendants, or come from associated areas of business and private aviation, such as schedulers and dispatchers, and flight department managers.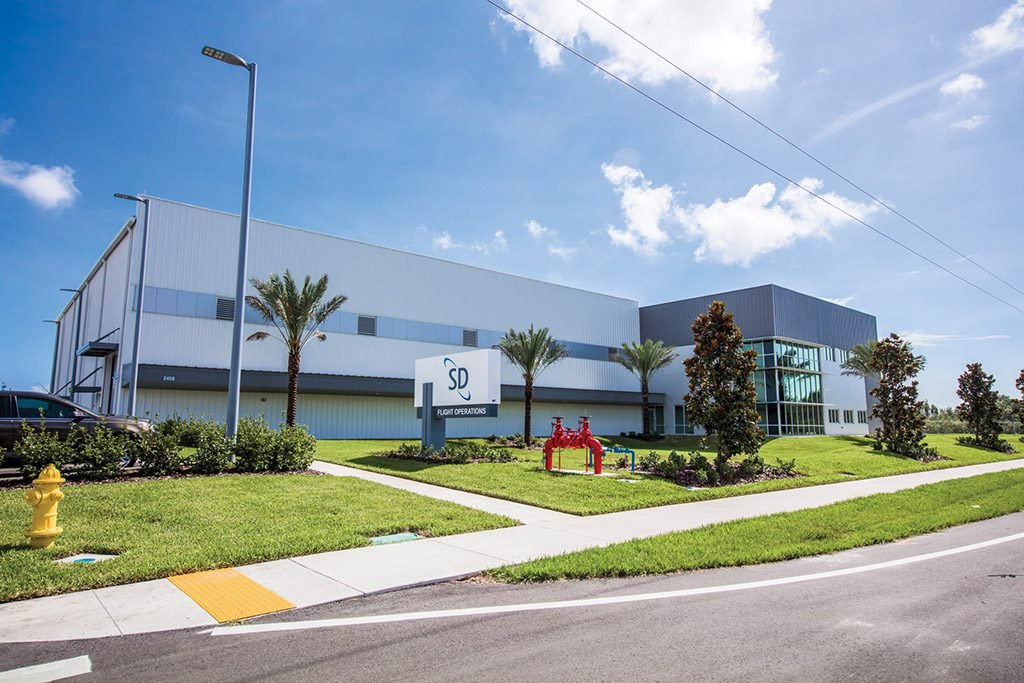 The brave new digital world has also found its way into the galley. One example is the induction cooktop platform from VIP cabin interiors specialist Lufthansa Technik in Hamburg. "Fresh food can be prepared on board quickly, safely, cleanly and economically . . . from perfect fried eggs to a sizzling medium-rare wagyu steak," said lead project manager Franziska Voerner.
The appliance includes a power source, exhaust and special "smart pot" containment cover to ensure that pots and pans remain in place, even during turbulence. It measures 11.6 x 22.4 x 10.5 in. and fits into any aircraft kitchen, explained Voerner. It not only allows an onboard chef or flight attendant to use a pan, toaster or pot to prepare meals, but cooking smells are eliminated by the integrated fume hood and odor filtration system. The device is already finding its way into the larger-cabin business jets.
Iacobucci HF has upgraded its Gusto induction oven for business aircraft, described by the Italian supplier as "a cooking revolution with induction technology for a five-star food experience on board." This new generation oven also incorporates integrated software, allowing the user to run specific programs to automatically execute a variety of recipes, in particular fish- and meat-based meals.
And flight attendants will soon be talking to their galley appliances, thanks to Amazon's Alexa and Google Assistant.
Consider the Behmor "connected" coffee maker. You can ask Alexa to brew a cup for you and your passengers, and even control the temperature through a smartphone app. And there's the Anova French sous vide system that allows the user to slow cook anything to perfection, thanks to an accompanying app. Or the General Electric smart countertop microwave oven that connects to Alexa so the user can control it by voice.
Cabin Safety Comes First
General emergency training is required by the FAA and it is rare that a flight attendant gets onto a business aircraft without it. The courses, no matter where they are offered, are designed to prepare the student for a position with an operator of business and general aviation aircraft, as described by the NBAA, and is typically for FAR Part 135 and occasionally Part 91 operations.
The courses meet most recommendations for the International Civil Aviation Organization (ICAO) and the International Business Aviation Council's International Standard for Business Aircraft Operations (IS-BAO) certification, as well as many of the regulatory requirements for Part 135.331.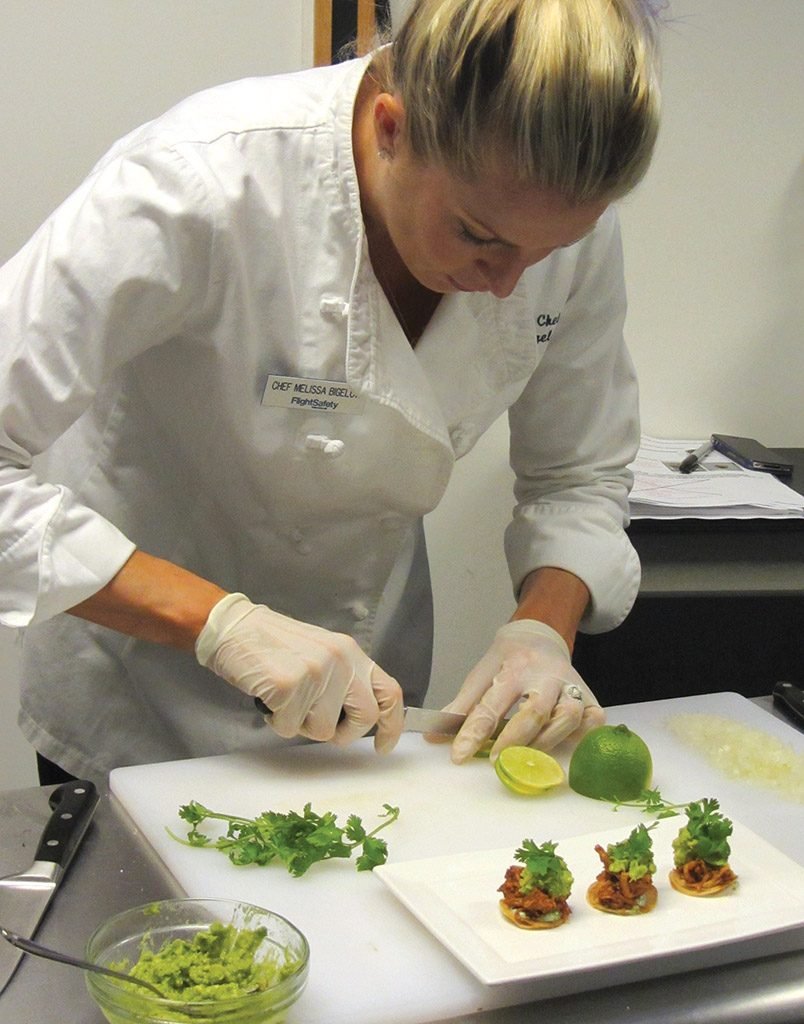 According to Fisher, the number of corporate flight attendants undergoing cabin safety training is increasing, primarily because operators today are uniformly using a safety management system (SMS) such as IS-BAO, and because, "More than ever, corporate and private aircraft operators understand the need for emergency training for the cabin crew."
Scenario-based cabin safety training is now held in classrooms and in specialized training devices, allowing students to acquire the knowledge and skills to efficiently manage a variety of situations, routine or emergency. For example, full-cabin corporate cabin trainers that can produce smoke-filled scenarios and appropriate audio are becoming more common. These large devices include FAA-accepted emergency exits and a realistic cabin environment, complete with assorted emergency equipment. Additional emergency training aids include large "dunking" pools, life rafts, emergency slides, fire trainers and rescue hoists.
According to Fisher, pilots and maintenance technicians alike also benefit from the training, and it is not unusual to have company executives go through the training as well.
According to the FAA, no safety training is required with aircraft of 19 seats or less, unless the pilot in charge determines that the crewmember is to have safety-related duties. While Part 91 operators flying aircraft of 19 or fewer seats are not required to have flight attendants with FAA emergency training, many owners and operators nevertheless list it as a job requirement.
If the cabin crewmember is assigned safety-related duties, that person must be trained under an FAA-approved flight attendant safety training program. (Some Part 135 operators of aircraft with 19 seats or less may opt for a cabin attendant who provides only cabin services and has no safety-related duties assigned, and is not officially listed as a crewmember.)
Most SMSes require recurrent emergency training for aircraft crewmembers every year, with hands-on drill training every 24 months.
For the entire flight department, FlightSafety also offers FAA-, EASA- and Transport Canada-compliant Human Factors Crew Resource Management training. It covers initial and recurrent requirements and is applicable to all roles of the flight department, said Fisher.
Aircare International has been in the business of crew training for more than 35 years and now has six fixed-based centers in the U.S. and Europe, including its headquarters and main facility in Tacoma, Washington.
The company also has the ability to use a customer's own facilities and aircraft to train the entire crew, as well as company executives, said Vice President of Operations Brian Hayvaz.
"In fact, a couple of times a month we provide safety training for executives and their families, although not as in depth as that demanded of pilots and flight attendants." The training includes fighting a fire, emergency egress from cabin exits, how to use smoke hoods and other devices, as well as a sudden cabin depressurization and the basics of water survival, including use of life rafts and life vests.
"We made our bones with pilot training, but cabin crews are near and dear to our hearts," said Hayvaz. He pointed out that while Part 135 requires safety training of pilots and cabin crew, "We've taken it a lot further and cabin resource management is now a major part of the course, in particular management of emergency communication under high stress and fatigue."
Part 91 operators tend to be among Aircare's most important clients. They typically have a strong safety culture and often choose to go through a slightly modified Part 135 safety syllabus. "They're doing it because they see the value in it; in particular, their executives. We have a fleet of simulators that we can take around the country, along with our own equipment, to the client's flight department."
The Aircare trainers will also introduce crews, and in particular pilots, to the effects of hypoxia (oxygen deprivation), simulating an approach to a high-altitude airport like Colorado's Aspen-Pitkin County Airport/Sardy Field (KASE). "We demonstrate it every year at the Bombardier Safety Standdown, and it's an eye-opener," said Hayvaz.
Aircare is also training crews on use of its remote visual station (RVS), a lightweight, easy-to-use system for the purpose of remote diagnostics and physician observation of a medical patient in flight.
"The connectivity brings the doctor on board to see and hear the patient, allowing clinical decisions and recommendations based on a patient's vital signs, which are transmitted in real time from the aircraft," explained Hayvaz.
The equipment includes a blood pressure cuff, electrocardiogram, thermometer, glucometer, pulse-oximeter and macro cameras. All are wireless and designed for easy use.
The flight attendant is an extension of the crew up front, explained Hayvaz: "What we do at Aircare is everything we can to ensure that that relationship works anytime, anywhere."
"We are the only dedicated telemedical and tele-assistance company for business aviation flight departments across the globe," said Hayvaz. "We provide services for hundreds of flight operators who fly in aircraft as small as King Airs and as large as VIP Boeing 767s."
Since its launch in 1985, Phoenix-based MedAire has become one of the foremost providers of aviation medical and security training for flight attendants, pilots and passengers as a means to mitigate risk exposure.
FlightSafety and MedAire have teamed to provide Management of Inflight Illness and Injury and medical training classes focused on handing medical events in flight. The training also includes the use of CPR and automated external defibrillators, as well as the study of human anatomy, altitude, physiology, oxygen systems and the proper assessment of the severity of infight illness and injuries.
Initial training is typically one to two days and recurrent training is one-half to one day. Management of Infight Illness and Injury training courses offer flexible options to fit crewmember schedules, available via eLearning, on-site at the operator/owner client facilities, or at an FBO.
The onboard clinically and logically assembled medical kit is designed to save time when treating any type of medical incident. The kits are reviewed every year by a panel of aviation medical, regulatory and operational experts to ensure the best solutions for private and corporate aircraft.
Describing the cabin crew as "first responders," MedAire also offers its RD Tempus IC as a fully integrated kit to maximize its MedLink inflight connection for the "ultimate medical assistance."
Tempus is regularly used by non-medical experts, such as pilots, cabin crew and key staff, to transmit medical data that would routinely be collected in an emergency room — such as blood pressure, cardiac conditions, pulse and respiration — to ground-based doctors from an aircraft in flight. It enables doctors on the ground to help manage the medical incident and guide decision-making with regards to treatment and any potential flight diversion decision.
Cabin Service Training Is Critical
It should be noted that while cabin safety is the primary responsibility of the business aviation flight attendant, cabin service remains a major concern for owners and operators, and in particular their passengers.
A recent "corporate cabin attendant wanted" afiche (aka, ad) carried with it a list of cabin qualifications that went on for nearly three pages, double-spaced. Qualifications and requirements for a business aircraft flight attendant are at the least extensive, for the most part, but occasionally jarring.
A recent listing by the Glassdoor.com job search site for a major corporate flight department carried more than 30 personal and professional qualifications and training requirements for those seeking a cabin staff position. An emphasis was placed on digital skills, including operating full cabin management systems, managing a seamless inflight virtual onboard office environment and being familiar with Apple devices, Microsoft Windows, and print processes for computer and iPad equipment. It went on to require Satcom Direct aeroCNCT training certification for aviation communications, avionics and network systems in the aircraft cabin.
Also expected was the ability to multitask, as well as a "highest level" of customer service skills, experience tending to executive level clientele, and the capacity to quickly identify problems, as well as determine possible solutions and to act quickly to provide resolutions.
Cabin safety and emergency training was emphasized, and at times in great detail. One major charter operator required an ability to "successfully launch a life raft weighing approximately 60 lb. and to lift, open and manipulate aircraft door and window exits weighing up to 130 lb." It further noted that a candidate should be able to safely open and jump from emergency exits approximately 6 ft. from the ground."
Physical capabilities even went further than launching a life raft and successfully wrestling with a heavy door. The help wanted ad also pointed out that candidates would be required to stand for prolonged periods and to "stoop, kneel, crouch or crawl." And it noted candidates "should be able to endure extended work periods that may exceed 14 hr., as well as pass an FAA criminal background check."
And finally, the ad pointed out that the job would include: "exposure to wet and/or humid conditions, fumes or airborne particles, as well as to vibrations and pressured aircraft cabins, along with aircraft engine and other loud noises for extended periods of time."
Aircare even takes cabin familiarization training on the road. As part of any new aircraft acquisition from Dassault Falcon Jet, Aircare provides the training on board the aircraft at the location of choice by the new owner.
The Catering Challenge
Of all the elements of cabin service, food preparation is often the most important, at least from a passenger's perspective.
The DaVinci Inflight Training Institute opened a bit more than a year ago. Founded by Managing Partner Paula Kraft — who also founded Atlanta's Tastefully Yours caterer — the new operation is providing a full suite of training programs to suit the needs of basic, intermediate and advanced trainees. (See "Fast Five With Paula Kraft," BCA, March 2018, page 20.)
Among the "experts" teaching at DaVinci's center in Fort Lauderdale, Florida, is Daniel Hulme. According to Kraft, he is a subject matter expert in a variety of cuisines and cooking techniques and several years ago introduced the concept of molecular gastronomy. Today, he is considered to be on the cutting edge of the culinary new wave, in particular the French sous vide style that ensures the steak or salmon is done to perfection.
"He was one of the first to introduce this food preparation technique on corporate aircraft," said Kraft, who added that his high-tech presentations have become the most-sought-after videos in the industry and his work has become the standard.
In addition, Dr. Shari Frisinger, a behavioral analyst, works with individuals on "maintaining their composure when they just want to strangle someone," explained Kraft with a chuckle.
Also, there's Alexa Sorrentino, Aviation & Marine Safety Solutions International's lead food & catering safety management system consultant. She provides hands-on training and food safety hygiene consulting. And Tamara Collum, a lead flight attendant with Fortune 500 companies, coordinates aircraft checklists, customer service for FBOs, menu planning, customs arrangements, culinary specifications for clients, and assists in writing resumes.
"These and other members of the team," said Kraft, "are all certified experts in their respective fields of training, coaching and consulting specific to corporate aviation."
Catering continues to be one of the most challenging aspects for flight attendants.
Mastery begins with knowing the dietary needs as well as culinary tastes of the passengers, creating a menu, and then double checking it with them. The flight attendant will then select a business aviation caterer by phone or by email with the specific menu and explain how it is to be packaged for the aircraft. The order is followed up by a phone call confirming the order in detail, as well as when, where and how it is to be delivered. Then when it arrives, it is the responsibility of the flight attendant to check and confirm that the order (all of it) is correct. Even then, you can have a trip come out of left field.
Contract flight attendant Teresa Grzywocz out of Warsaw recalled a flight in China. "I don't speak Chinese, so I ended up showing photographs of various dishes to my passengers, and then showing those they picked to a restaurant manager to prepare for the next leg of the flight.
"Dealing with a different culture and language you don't speak," she said, "is definitely interesting, and sometimes very tiring."
There are growing trends of which private and business aviation flight attendants are rapidly becoming aware. Among them is a tendency by hotels and restaurants in Europe to refuse to fill takeout orders. "They've begun to realize that they have little or no control over the chain of possession of an order once it leaves the kitchen, and they see it as a growing liability issue," explained Kraft.
Another trend creating a challenge for the flight attendants is that of dietary restrictions, and it is common now for caterers to receive an order that includes a list of passenger and crew dietary requirements — such as for gluten-free or vegan passengers, among others — and those special requests are growing. "Some vegans will object to orders by other passengers on the same flight who are not vegan," said one caterer.
She added that allergies are also a growing problem. "For example, a flight attendant may order separate meals for a passenger who is allergic to peanuts. But there is a possibility of cross-contamination at some point and a passenger going into life-threatening anaphylactic shock at 40,000 ft. is not something you want to have happen."
About the Pay
The salaries of business aviation flight attendants vary widely, depending on such factors as geographic location, aircraft type, individual experience, training qualifications and whether the job is full-time or by contract.
For example, a NetJets flight attendant salary listed on Glassdoor.com described an average annual base pay of $60,000, with a range from $42,000 to $87,000. The $60,000 average, noted the job search website, factored in "bonuses and additional compensation."
According to Freidenberg, salaries in the U.S. for a full-time flight attendant differ based on location. "The West and East Coast employers offer more, to match the higher cost of living, compared with the rest of the country. Full-time salaries for flight attendants with 'corporate specific' training and a strong resume range from $80,000 to $120,000, plus benefits. In other parts of the country, $50,000 to $75,000, plus benefits, is more common."
Contract flight attendants with corporate-specific training may earn between $500 and $700 a day, plus all expenses, or more for international flights. "But I always say in my training, 'In life and in business, you don't get what you don't negotiate for, and when you do negotiate, always start high,'" Freidenberg advised.
Salaries, she said, may also be higher for flight attendants with a dual role, which might include anything from registered nurse to personal assistant.
Per diem policies, she noted, also vary, but are typically from $5 to $8 an hour, block to block. "Or it might be $75 a day for domestic flights and $125 a day for international flights. Other clients might only reimburse based on receipts."
Benefits for a full-time flight attendant also differ from one corporate flight department to another, and between charter and fractional operators. Employers may offer a 401K profit-sharing plan; relocation allowance; health, dental and vision care or some form thereof; as well as paid recurrent training; and vacation and time off. It is unusual, but some will also include a clothing allowance.
When negotiating for a job as a business aviation flight attendant, said Amanda Jenkins of Bizjetjobs.com, consider not merely what the prospective employer is asking of you, but what questions you should ask them.
Jenkins suggested that the following salary relation queries be considered:
How often will I be flying; what are the usual destinations; and will international flights be typical?
HHow many days a month can I expect to be flying?
HWill I be on call?
HWill I be working in an office when not in the air?
HWhat additional duties will I have, such as playing nanny, taking care of pets, providing medical support?
HWill my responsibilities include supervisory or management duties?
A Flight Attendant Profile
They come from every corner of the globe, and the path to employment as a business aviation flight attendant is generally through the front door, which frequently means after serving as an airline flight attendant. Others have hailed from an FBO, charter aircraft management company, or some other niche in the field of business aviation. Some, however, like Dennis Burke, took the long way, via 20 years in the U.S. Army.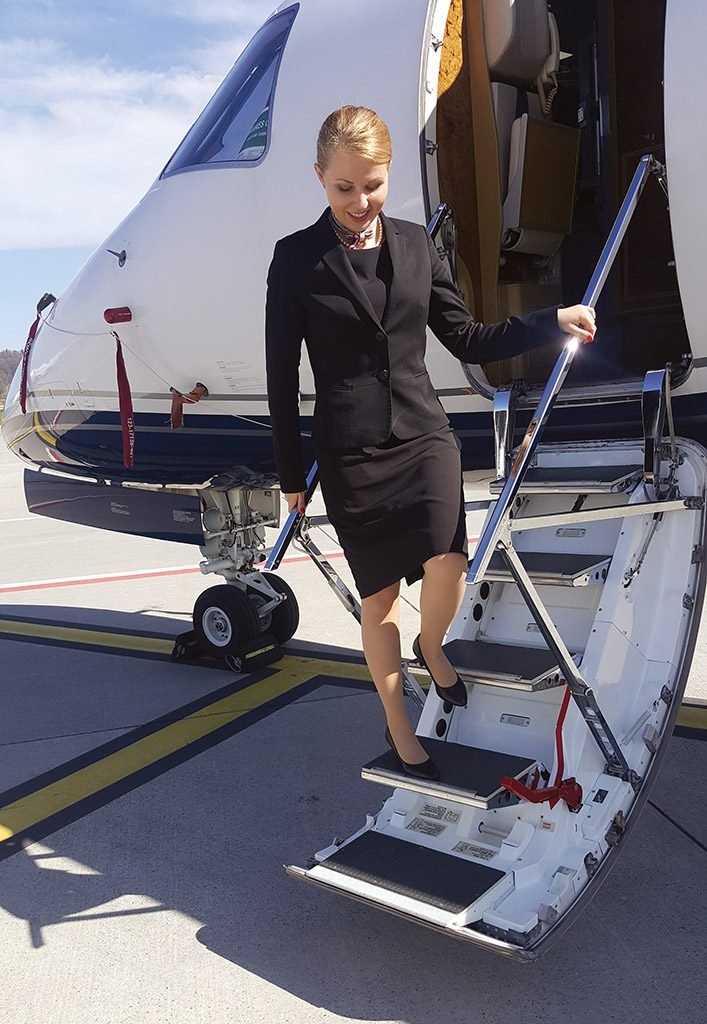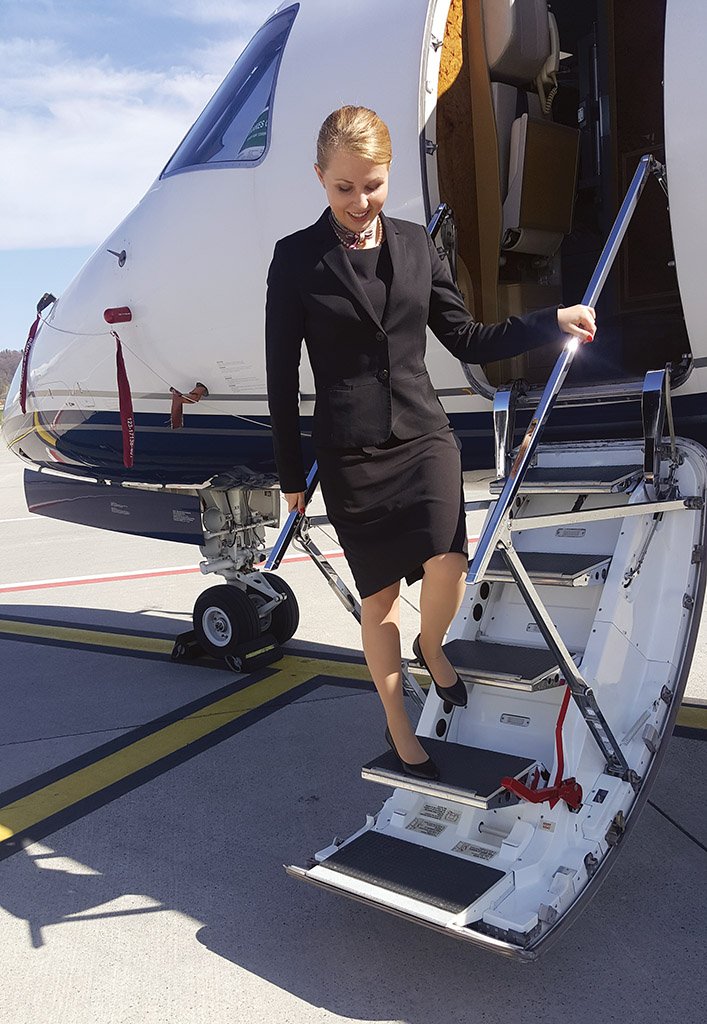 Teresa Grzywocz is a London-based corporate flight attendant who intends to "keep flying for the next 10 to 15 years."
During his military career, Burke spent most of his time as a flight attendant on Gulfstreams, providing cabin service to the upper echelons of government, Army brass, heads of state and members of the U.S. Congress. He retired with the rank of master sergeant and a service record that included a tour in Iraq. But he wasn't ready to stop flying. When a friend recommended he look into a fresh career as a business aircraft flight attendant, Burke thought, "It just might be a perfect fit."
Even before joining the Army, he had gone through a chef apprentice program, and later during his military career he attended the prestigious Culinary Institute of America, as well as being immersed in additional courses offered through the Army. Perhaps most impressive, he completed the distinguished Starkey International Institute, a school best known as "the Harvard of private service training."
Burke had also gone through the required Army safety training syllabus, which unlike most civilian training, required ground survival training and time in the altitude chamber to experience hypoxia.
He is now flying full time for a major U.S. company, where much of his military experience has been invaluable, even to the point of keeping a "go bag" prepared for pop-up flights. There are numerous long-range international trips, but Burke doesn't get involved in ordering catering, as the company has its own commercial kitchen, and he will typically prepare meals in flight. Looking ahead, he sees many more years in the cabin. "I've been in corporate aviation now for 10 years, and I see myself doing it as long as I can."
Ashley Mayne has gone in the other direction. After 10 years as a contract flight attendant, she was flying for a private owner who decided to retire and sell the aircraft. "So the entire crew — four pilots and two flight attendants — were released within a few months.
"Now I live in Putney, in southwest London, where I work at Victor, a tech-focused jet charter company. It's my first ground job in a very long time, and I'm enjoying it a lot," she said. "I had already lived in London for a few years, but I still felt like a tourist because my job as a flight attendant kept me away so much. But now I truly feel like London is my city."
Grzywocz expressed a desire to continue flying as a flight attendant for the next 10-15 years. But she added, "If for some reason I am not able to do this, I would love to work as a trainer and teach future corporate flight attendants."
*This blog post first appeared on https://aviationweek.com