Too often private aviation is an easy target for folks who want to bash the super rich, global CEOs or what they perceive as industries that are damaging the environment. Private jet users are of course an easy target, even though many of the same people who trash the industry use private aircraft, at least when they help them achieve their business objectives, which is the reason most people access private aviation.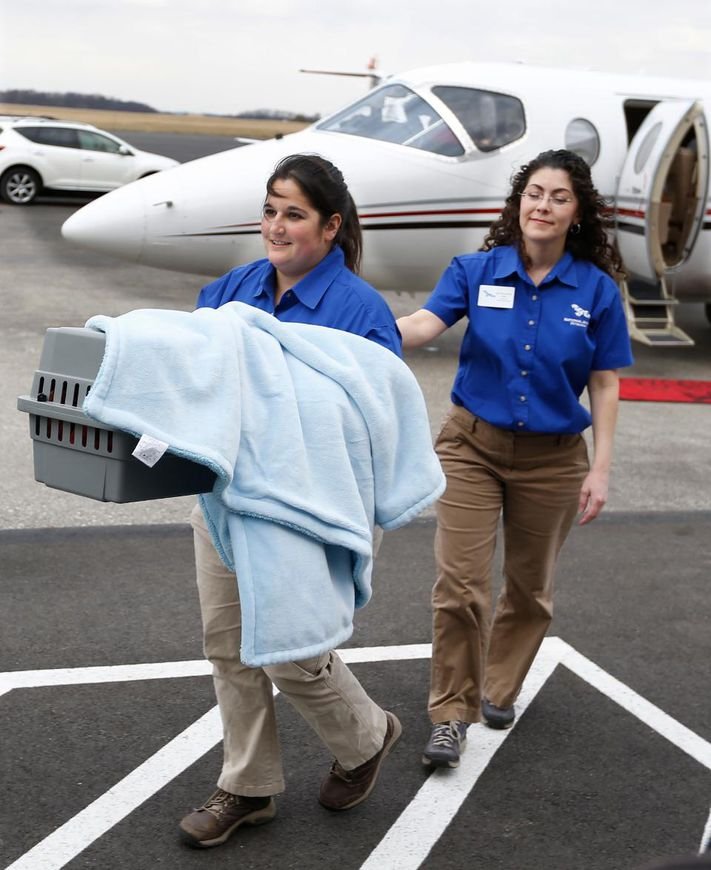 Less than 50% of private jet flights include senior company management, and business aviation is integral in getting replacement parts and medical devices delivered for urgent needs. Here Cathy Schlott, left, the curator for behavioral management and education for the National Aviary in Pittsburgh, is accompanied by Pilar Fish, the institution's director of veterinary medicine, as she carries the blanket draped kennel holding a three-month-old Linnaeus's two-toed sloth at the Allegheny County airport after they arrived on a private jet. (AP Photo/Keith Srakocic)
Last month, 23 business aircraft arrived at Geneva Airport for the annual European Business Aviation Convention & Exhibition (EBACE) using sustainable alternative fuels, and key players such as Gulfstream have been testing them for close to a decade.
Of course, the drive towards reducing carbon emissions is just one aspect of the industry that its detractors aren't aware of or choose to overlook as it doesn't seem to fit with their narrative.

Companies such as American Express, General Dynamics, Home Depot, Meredith, P&G, and Hertz donate empty seats on corporate jet flights to cancer patients flying for treatment. The program is operated by the Corporate Angel Network.
No Plane, No Gain, an advocacy group supported by the National Business Aviation Association (NBAA) and General Aviation Manufacturers Association (GAMA), provides data showing a multitude of ways the industry is an integral engine to the economy, which I am highlighting below:
Business aviation supports more than one million U.S. jobs
The industry generates over $200 billion in economic activity each year
Private jets can access over 5,000 airports in the U.S. compared to only around 500 served by the airlines, one reason politicians use them. They are an efficient way to conduct business. You can visit three or four places in a day, a trip that might take an entire week using the airlines.
42% of business jet flights are to places with little or no airline service, and 80% of flights are into airports in small towns and communities.
The same 42% of business aviation missions involve multiple destinations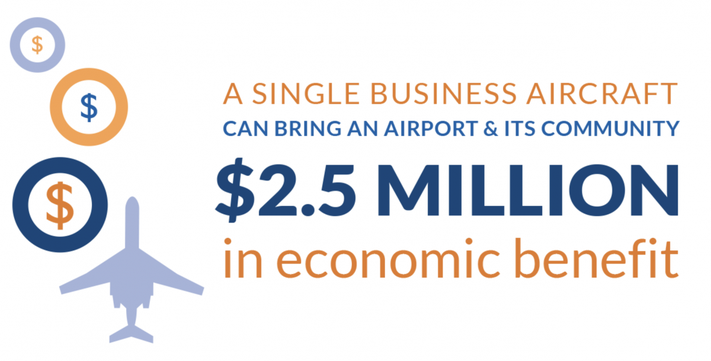 A single private jet can bring $2.5 million in economic benefit to the community where it is based, while the overall industry is responsible for over one million U.S. jobs.
A single private jet can bring $2.5 million in economic benefit to the airport and community where it's based.
While the popular stereotype is fat cat CEOs flying on large cabin, luxurious private jets, 50% of the business aircraft fleet is turboprops and smaller jets, and in fact, top management is onboard less than 50% of the time.
In fact, key reasons companies use private jets are employee time savings, increased productivity, protection of intellectual property and improved customer service, often flying replacement parts, including medical devices on an emergency basis, sometimes cutting hours off the time it takes the customer to restore service, or in the case of doctors, begin a life saving procedure.
What's more, there are over 15,000 business aircraft flights per year for humanitarian reasons, and in the past year, 38% of private jet pilots say they have flown humanitarian missions. Groups like Corporate Angel Network match patients who need specialized treatment with companies that donate seats on their flights to get those patients to their needed medical care. Some of the companies involved include American Express, BASF, Caterpillar, Dow, Flexjet, Geico, General Dynamics, Hertz, Honeywell, Home Depot, Intel, Lilly, Meredith, Nestle Purina, NetJets, P&G, Target, Valero and Verizon.
While detractors position private aviation as excess, the facts tell another story. Companies that use private aviation outperform non-users by 23% in revenue growth and 95 of Fortune magazine's "100 Best Places to Work" companies use business aircraft. One last fact. It's not just big companies that use private jets to make their business more efficient, 57% of business aviation users have under 500 employees.
The next time a pundit or politician talks about how private jets are wasteful, ask if they know how many jobs are connected to private aviation and how much the industry brings to the economy?
If you want two local market examples, Teterboro Airport in northern New Jersey supports more than 14,900 jobs paying $868 million in annual wages and inputs more than $2.3 billion into the local economy. Van Nuys Airport, in Los Angeles, generates $295 million in local, state and federal tax revenue annually. In other words, business aviation works for the economy, and not just for the folks flying on them.
*This blog post was first published on Forbes.com