Elite Training
For the experienced business aviation cabin crewmember, this customized training platform is designed to meet all the culinary, cabin safety, and emergency procedure standards for your flight department or employer.
The Culinary Experience Elite
Students have the option of selecting the entire 5-day bundled course or you can select the 2-day, 3-day or 4-day bundled options.
Advanced Culinary and skills training for business aviation professionals. Daily modules are designed with hands-on interactive culinary training combined with instructor lecture, visual presentations, detailed manuals, handout materials and all needed tools to successfully complete the lessons. Each class is taught by aviation industry expert Paula Kraft and conducted in the state-of-the art culinary lab in the trainDAVINCI Training Center.
This course will provide the understanding of the basic needs and restrictions of your clients, enabling you to order or prepare more precisely the food matching passengers and flight crew requirements, considering the restrictions of an aircraft galley for the appropriate dish for the specific time of day.
You will gain a valuable understanding of aviation specific packaging, foods and the interplay among ingredients, various cooking methods and seasonings that work best at high altitude. You will learn how to make an order a simple task while reducing waste and food costs. You will gain the ability to prepare and present foods that create a "Wow" factor for your passengers, guests and the flight crew, while even overcoming mistakes that might otherwise ruin the dining experience.
Available separately, or bundled with Service Elite and/or Cabin Safety Training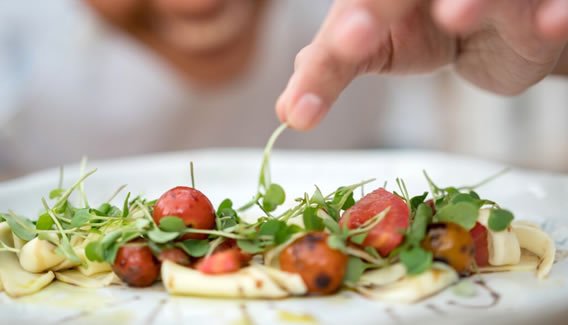 Catering SMS (Safety Management Systems)
train

DAVINCI

Tool Kit Skills Training
Tips & Techniques
Garnishing Techniques
Safety and security procedures when placing a catering order
Auditing your food source
Reheating food in the oven, microwave and hot pot
Various plate design plans (covered daily)
Food storage onboard
Out of the box recovery (covered daily)
Water and ice procedures
Dish cleaning procedures
Proper sanitization
Dry ice procedures
Culinary Evaluation
Courses includes: trainDAVINCI Flight Attendant Garnishing Tool Kit, Culinary Elite manual featuring garnishing instructions and presentation techniques, conversion charts, reheating temperature and food allergy charts, basic food safety procedures. (This is not a certified food safety program)
3-Day Course – Bundled Course
Includes days 1 & 2 agenda, plus the following day 3 agenda:
Understanding Portion size
"Creating the Portion Illusion"
Food allergy Identification and Hidden Allergens
Allergens and Food Intolerances
Stretching portions
Various plate design plans (covered daily)
The Art of Food Stacking
Reheating food in the oven, microwave and hot pot
Emergency quick fixes – Savory and sweet
Out of the box recovery (covered daily)
Culinary Evaluation
Day 3 Course includes: days 1 & 2 tool kit and additional handouts and recipes.
4-Day Course – Bundled Course
Includes days 1, 2 & 3 agendas, plus the following day 4 agenda:
Galley Time Management
Salad stacks and presentations
Various plate design plans (covered daily)
Out of the box recovery (covered daily)
Food preparation – "Some Assembly Required"
Cooking onboard- "Something out of Nothing"
Long Haul Front Loaded Stock and Fresh
Culinary Evaluation
Day 4 course includes: days 1-4 tools and handouts plus sample menus.
5-Day Course – Bundled Course
Includes days 1, 2, 3 & 4 agendas, plus the following day 5 agenda:
"Breakfast of Your Dreams"
Platters
Fruit plates
Cheese trays
Cutting vegetables for tray service
Going from Ordinary to Extraordinary
Out of the Box Recovery (covered daily)
Various plate design plans (covered daily)
Creating vinaigrettes
Salad presentations
Reheating food in the oven, microwave and hot pot
Culinary Evaluation
Day 5 courses includes: days 1-4 tools and handouts plus additional recipes.
Cabin Safety Training – Recurrent
2-Day Training Program
+ ERAU Online Pre-Training Course
Proven methods like cabin safety, emergency procedures training and improvement standards like IS-BAO (International Standards for Business Aircraft Operations, NBAA's (National Business Aviation Association) Best Practices and EBAA's (European Business Aviation Association) WE-CARE programs are helping to foster a uniform code of best safety practices in the business aviation industry. We know from experience that air safety relies on the personal commitment of every member of the aviation community. Safety is a mindset – a culture that must be intentionally and continually reinforced.
This is why trainDAVINCI has created this 'refresher' program, which has over 10 modules along with a pre-course study guide meeting all of the requirements per FAR 91, 91K, 135 and 125 training standards. With a commitment to safety unsurpassed in the aviation industry, we help our students understand how to manage risks, unusual situations and strengthen their safety culture and improve their clients or employers safety management systems.
Combined with required online pre-training via Embry-Riddle Aeronautical University and conducted at the trainDAVINCI training center and is a combination of classroom lecture and presentations, videos and hands-on interactive scenarios/proficiency drills conducted in a realistic business jet cabin trainer.
Available separately, or bundled with The Culinary Experience.
Review:

Federal Regulations and International Agencies
Hazardous Materials and Dangerous Goods
Surface Contamination
Business Aviation Accidents Review

CRM – Crew Resource Management and Human Factors
Communication and Briefings
Emergency Equipment
Inflight Fire, Smoke and Fumes
Decompression and High Altitude Physiology
Cabin Safety and Emergency Evacuations
Search and Rescue
Fatigue Management
General First Aid, CPR and AED
Business Aviation and Personal Travel Safety and Security
Service Elite for Advanced
This training program provides a thorough presentation and hands-on experience preparing and serving VIPs aboard the aircraft. Additionally, new ideas for the cabin crew on menu planning, storage, plating, and protocols will be demonstrated for both domestic and international travel.
There are only a few things that can make or break your passengers' experience on a business jet flight. Quality catering and inflight service are definitely two leading contenders in this ever-changing and demanding world of business aviation. Just a few years ago, the majority of cabin crew members and flight departments didn't think twice about ordering standard catering items such as the "sandwich tray", "the cheese and fruit tray", "the brownie and cookie tray." As many cabin crew members can now contest, today's perceptions and expectations have dramatically changed!
The goal of trainDAVINCI's Service Elite is to provide the most current information available on catering techniques, food handling safety, service tools and hot topics within our industry for our advanced students.
Available Separately or Packaged with any 2-5 Day Culinary Experience Program.
Hot Topics
Sharing and discussing the latest and hottest catering, inflict service and speciality foods trends in business aviation as well as showing you all of of the "must have" tools to have onboard your aircraft or carried in your personal travel service kits.
Sushi, Sashimi & Sake Service
Handling safety
What and how to order
Presentation
Accompaniments and pairings
Chopstick etiquette
Tools needed
Serving sake
Wine, Champagne & Cheese Service
Pairings
Storing and safety
Presenting and serving
Stemware
Tasting and pairing interactive
Champagne service
Cheese service and pairings
The basics
How much do I need?
Presentation
Must have tools
Accompaniments
Vodka and champagne service
The basics
Type of teas
Presentations
High Tea, Afternoon Tea (Low Tea), Chinese and Japanese Tea Ceremonies
Must have tools and accompaniments
The menu
The basics for the in-flight barista
Type of coffees and services
Espresso and specialty coffees
French press
Making a Bed
The basics and "Tricks of the Trade"
Single and double berths, divans and staterooms
Preset beds
Turndown service
Passenger amenities
Creating Welcome Tables that impress
Setting the Stage in the cabin (cabin presets)
Greeting your passengers and pre-flight departure service
Please contact trainDAVINCI for more information, customizing options, training proposal and rates.
Upcoming Training
Monday, DaVinci Inflight Training Institute
Monday, DaVinci Inflight Training Institute
Monday, DaVinci Inflight Training Institute
No event found!
VIEW MORE