I am always surprised by the reactions I receive from fellow corporate flight attendants when they learn I cook fresh onboard the aircraft using a portable induction cooktop along with the convection oven and microwave. "You don't use a caterer?" "Nope. All I need is a grocery store, and I haven't been to a single city in the world that doesn't have one." It's always interesting whenever I am providing a tour of the DaVinci Inflight Training Institute while a culinary course is taking place. The tour guests walk in and see students using the cooktops and immediately bark, "We can't do that!" "FAA would never allow this to take place onboard!" "Why are you teaching this? No one can do this!" My reply is always a simple one, "Actually, I do. … and so do many corporate flight attendants. Welcome to 2018."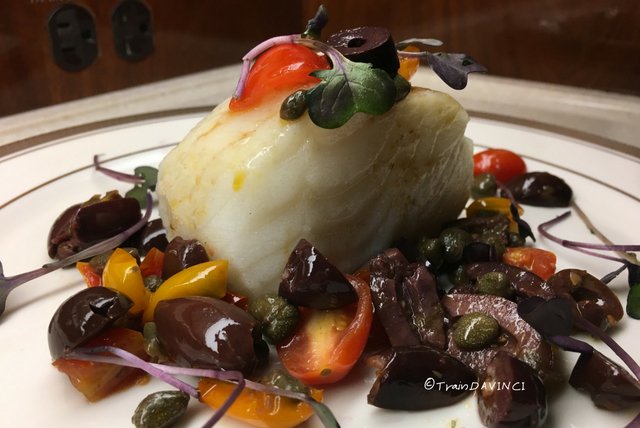 However, it's not just cooking fresh onboard but also having elevated plating and presentation skills at a 6-star or VVIP level that is similar to a Michelin rated restaurant. In-flight menus presented on iPads and freshly prepared and presented cuisine to order is the new in-flight gold standard. I understand cooking fresh onboard is almost unheard of in the charter world (FAR135) due to liabilities and policies. However, for private operations (FAR91) this style is becoming the norm; along with providing higher-end service standards such as butler white glove service, business jets with staterooms and showers, providing turndown service for cabin beds, and of course, cooking fresh on demand.
There is always the safety concern argument about turbulence and using a cooktop. I usually counter with using knives when unexpected turbulence happens is always a safety concern— but we all use them! It's all a matter of perspective and maintaining situational awareness and having a solid focus on the task at hand. This industry is extremely diverse just as our job descriptions as corporate flight attendants. This is the amazing thing about business aviation. There is a fit for every skill set, experience, and personality. Does every corporate flight attendant have to have chef skills? Of course not.
"This industry is extremely diverse— just as our job descriptions as corporate flight attendants. This is the amazing thing about business aviation: There is a fit for every skill set, experience, and personality." —Scott Arnold
I have now been in the aviation industry for thirty years. I started in 1988 as a flight attendant for USAir and joined the world of business aviation in 2001. For years we have struggled to fight for the cause of the justification of third crewmember and the importance of having cabin safety trained cabin crewmembers on board all business jets. As a trainer and a member of the NBAA Flight Attendants Committee (I'm a Past Chair and now serve on the Advisory Council), I have seen tremendous strides and progress made over the years in cabin safety but there is always work still to be done. Over the last few years, I have seen a significant paradigm shift in flight operations. Cabin safety training is now a standard and there is a new and intense shift focusing on cabin and customer service.
Flight operations are seeking to elevate inflight standards and service skills onboard. We all routinely attend recurrent cabin safety training. However, when was the last time you attended any in-flight service or culinary (or catering) training? I'm guessing the majority is when you first started. Dried parsley flakes, plating the protein at the 6 o'clock position, elaborate garnishes are all passé now. Attending culinary courses specific to business aviation helps you to understand the science behind aviation catering and how seasoning, tastes, and textures at 45,000ft are completely different than on the ground. Making the financial investment of attending annual cabin safety is critically important (and hopefully something you never have to put to test). Why not also invest in soft skills training that can build and sustain your career and success?
The majority of business jets are used exactly as named— for business. They are safety and security-focused flying offices and/or sanctuaries for the elite who travel the world for business and pleasure. Trips may be fulfilling a glamorous lifestyle or nonstop hard work. Executives flying 12+ hours to a destination need to be comfortable, work in a confidential atmosphere, sleep comfortably and feel refreshed upon arrival as most passengers start their day immediately after deplaning.
The world of the private owner flight operation can be all of this and so much more. I am part of a team of my private owner's Gulfstream G550. However, we are more than a team. We are business "family." I am proud to be able to provide the caliber of in-flight service and cuisine my owner deserves. Through consistency over the past couple of years, this level is now expected— as it should. When I started flying as a corporate flight attendant in 2001, I never dreamed I would be elevated to this level of in-flight standard. Today, I cannot wait to see what new levels and adventures await me and our industry— as we all soar together towards excellence.
by SCOTT ARNOLD, trainDAVINCI
*This blog post was first published on FlightAttendantLife.com.